Happy Friday! Well, I meant to post this last Friday, but my week flew by to fast, so here I am getting it posted today! So, as I had previously mentioned, we took the family up to Portland to see a Sesame Street Live performance, "Elmo Plays Music" (or something like that!) for Noah's 2nd birthday. The timing was perfect as it was the day before his actually birthday, and on the weekend. I conned my sister and My dad and April into attending the show with us because I knew the kids would LOVE it. I hopped online and ordered the tickets. Since it was the last performance, they had a family four pack deal and I saved a bundle. And my dearest mother shipped cash for Noah's birthday which paid for the majority of the tickets! (THANK YOU!!!)
Since Wayne's family and my friend Carolyn still wanted to wish Noah happy birthday we decided to all meet up at Izzy's buffet before heading up to Portland and have cupcakes and a few presents. They normally have a 5.99 lunch special….my bad, we got there at 1pm and apparently on Sunday's they have a brunch until 2pm….so we ended up paying twice as much as I had planned! At least now I know for next time!
The best photo I could get of me and my birthday boy!
Elmo on Stage
Shaking their cookie jars to make music!
The spectators!
Photo opp. next to the Elmo toys!
Emma was just happy as a clam going to see Sesame Street too!
The best part was, I kept the entire thing a secret until last minute. We told them we were going to Izzy's for lunch, and then I told them after lunch that we were now going to Portland! Noah of course didn't really understand it, but boy Emma sure did! So it made for fun for everyone. I generally end up spending that and more for a party on the kids, so this was actually a cheaper option, and one that they aren't likely to forget for a while.
Finally that evening we headed home, and Noah had one more surprise coming….his Uncle Vince fixed up a super cool Spider man big boy bike for him! Complete with a backpack to match! Noah love, love, loves anything with wheels, and he had been scooting along on his sisters pink trike for quite some time. So this boy had a fun birthday, and thanks to everyone pitching in with the costs, the entire day (including a present we got him – a camera to take pictures with) was under $100.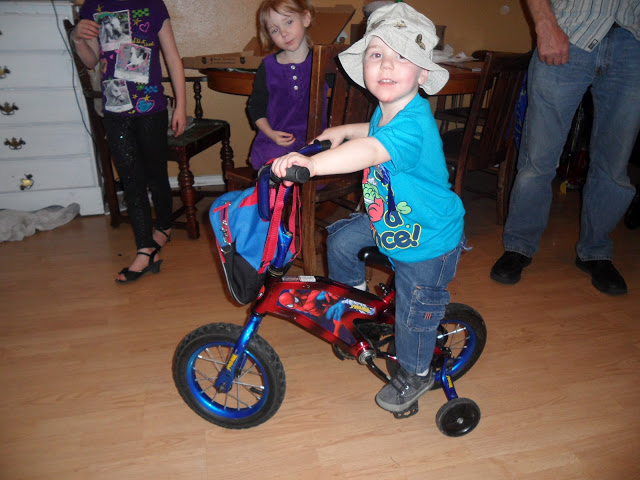 <3 Melissa
(Visited 597 times, 1 visits today)