Hey everyone! It's been a few since I've personally said hello on here. How did your Halloween go? I can't believe we are already well into our first week of November! Thanksgiving and Christmas will be here before you know it.
I wanted to share a bit about my Halloween on here with you, because there's just something special about documenting my own personal holidays on here. I love looking back throughout the past 5 and a half years and seeing some of my own memories.
My Halloween adventures began in the early afternoon when I helped participate in Noah and Emma's classroom Halloween parties. It was just my luck that they weren't at the same time! In fact they were just about back to back, which made it ideal for me.
Should schools celebrate Halloween?
It's always so much fun seeing children dress up. You can feel the excitement in the air. On a side note, one of my co-workers told me that his son's school took Halloween away this year, and replaced it with crazy sock day. He stated it was because of a couple of parents who didn't believe in Halloween, though the majority of parents were against the crazy sock day swap.
Coming from a household that did not celebrate Halloween as a child, I find the school's decision rather ridiculous. The kids are always excited to see what costume their friends are wearing for trick-or-treating, and I think if a parent or two didn't like it they could just keep their kids home on that day. But crazy socks instead? I mean, even churches host harvest parties on Halloween instead and let the kids dress up.  Coming from a religious background I understand that Christians are against the pagan holiday, but, well, I never celebrated Halloween as a child, but now, well, I do.
Our low-key Halloween
After the school parties we all walked home together, and decorated the front porch a bit more with spider webs and lights. We placed candles in the carved pumpkins, turned on some Halloween music, and brought out the trick or treat goodie bags.
As time got closer the kids all got ready. Anika chose to be a panda bear again, Emma was a witch, and Noah originally was a spy, but sort of transformed and became like a little mob man or something. 😉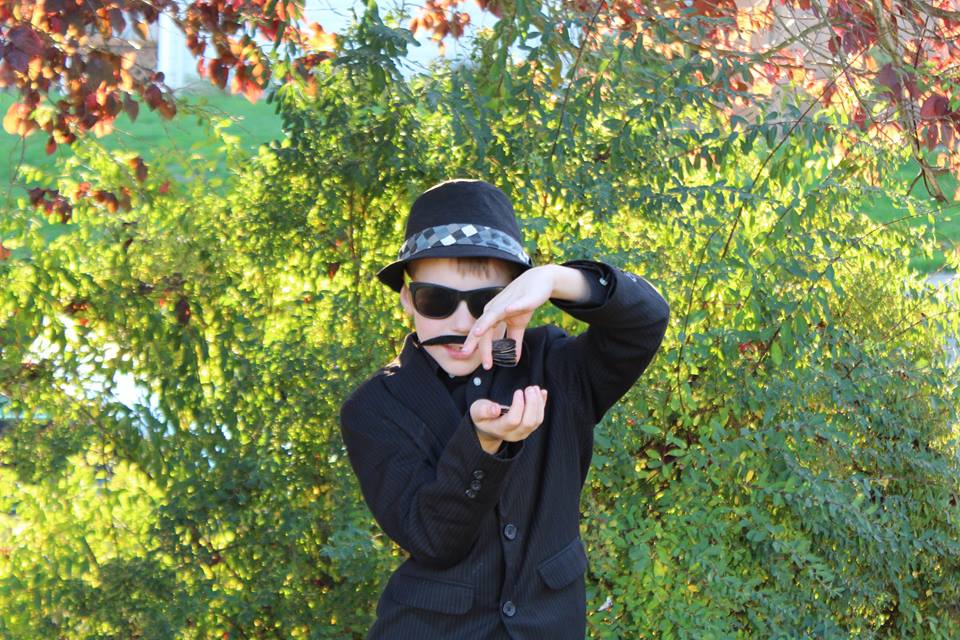 I baked our annual pumpkin shaped pizza from Papa Murphy's and set out some snacks. Both Emma and Anika had a friend come over as well as their grandma and shortly after 6pm we began walking our neighborhood.
It was a gorgeous evening.
Wayne stayed back and handed out candy to the ghosts and goblins that stopped by our house. We had 300 this year (down from 340 last year).
The kids and I made it back home shortly after 8pm and sat down in the living room where the kids all dumped out their loot to sort through it all. We turned on The Great Pumpkin Charlie Brown and spent the last hour of the evening relaxing.
Halloween in the middle of the week isn't as wild and crazy as it can be on the weekends, but sometimes its nice to just have a low-key Holiday.
~Melissa
(Visited 192 times, 1 visits today)