Why hello my long-lost friends. Some time has slipped by and I found my summertime schedule so busy that I didn't have time to hang out on the internet very much, let alone share anything with you. That will soon change though as we roll into the fall. I have a lot of fun and exciting things happening on the website soon!
Showing a Lamb
Last month was the Yamhill County Fair, and, for the past four years it's been a place where we spend a lot of time. Anika once again showed a lamb during the fair, which entails a whole lotta work. If you don't know anything about it (like me before she started) check out the post I wrote about it after our first adventure there.
Anyways needless to say I spend the majority of my days and nights running back and forth to the fairgrounds. We got extra lucky this year with 107 degree weather two of the days, which is almost unheard of for Oregon.
On top of Anika's schedule, Emma also had her own fun, as she was invited to participate in a school based academic afternoon camp, so two out of the four days I dropped her off and picked her up as well. I kept busy packing tons of meals, snacks, and water for everyone so that we wouldn't spend a small fortune eating out the entire time and so that no one would get dehydrated.
Fair Activities
We spent the evenings attending the rodeos, concerts, and demolition derby that was all included with our fair admission. Friday night was the big line up, as Montgomery Gentry took stage…and I found myself at the front row! My ears are literally still ringing. After the concert my friend and I thought it was a good idea to go out dancing and eat food at a Shari's at 3 am…which brought my tired butt home at 4 am. Now that wouldn't have been so bad except I had signed up for my very first 5K the next morning – and I needed to get up at 7am! Oh the crazy things we do, right?
I conquered that 5K walking/jogging up the hills at Legacy Estate Vineyards. It felt good to accomplish it, but oh man were my legs sore after running around all week!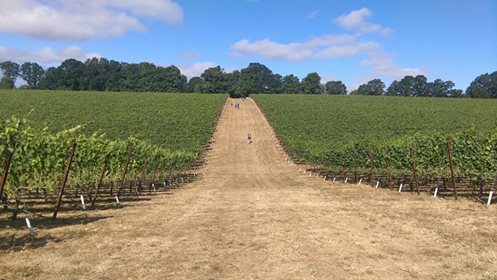 After the 5K I rushed back to the fair to watch the annual animal auction where Anika sold her lamb.
Later that afternoon we all took a tiny nap before heading out to the derby.
After the derby Wayne and I drove out to a friend's anniversary party.
And Sunday – we rested.
After the Fair
Well, not exactly. Anika had to go back to the fairgrounds first thing in the morning to clean up and Wayne had to work until noon. We were able to take a nap in the afternoon though, and that was amazing. In the evening we drove one mile out to Stoller Family Estate and watched a live Shakespeare play of "A Midnight's Dream".
Immediately after the fair I sent Anika off to a 3 night camp called Gear Up that she was chosen for during the school year. It's a 3 night/ 4 day camp hosted at a college in Bend, Oregon, to help prep kids for college. While Anika was gone Emma and Noah attended a Vacation Bible School and Noah also had Football camp.
Our summertime schedules this year were rather busy, and unfortunately summer came to an end quickly..but I wouldn't have changed a thing.
Stay tuned for more recipes and travel adventures this upcoming week!
~Melissa
(Visited 212 times, 1 visits today)