Full Disclosure: I received complimentary tickets to see #DisneyonIce – no other compensation was given. All opinions are my own.
Where oh where has this month gone? It's nearly Halloween and I've barely said hello on here this month. Changing jobs and adding a few more to-do's on my plate has definitely taken me longer to get adjusted to than I anticipated. I'm learning to just accept things for how they are and go day-to-day a bit more, instead of stressing out with everything that is just impossible to accomplish all of the time.
Last weekend Wayne and I took Emma and Noah up to Portland to see a performance of Disney On Ice: World's of Enchantment. We hadn't done anything exciting with them like that in a while and I knew that they would enjoy it. We've seen Disney On Ice programs in the past and none of them ever disappoint – and this one turned out to be just as magical as the others.
Each Disney on Ice performance seems to have some similarities – beloved characters like Mickey, Minnie, Goofy, Donald, and Daisy narrating the collection of stories that make up the program, but each show has proven to have enough magic to make anyone want to see them more than once. Disney On Ice: World's of Enchantment had a great variety of characters that made the evening special for everyone.
The program began with a condensed version of the Toy Story 3 movie, and the kids loved seeing Buzz, Woody and all of the other characters – including Ken and Barbie.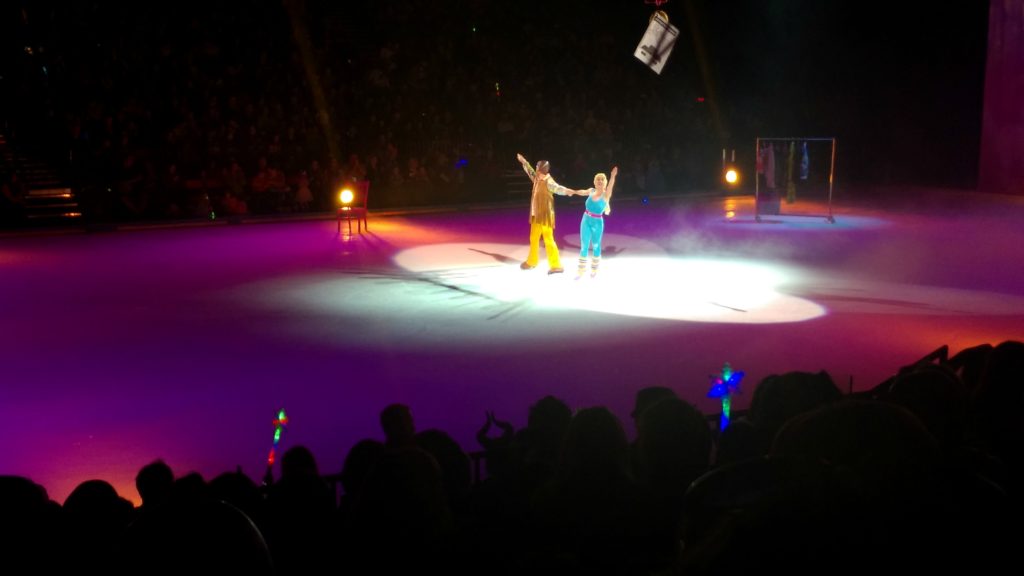 The Little Mermaid portion of the show was a highlight for me, as I found myself singing along to the music to the soundtrack that I grew up with.
Noah absolutely loved seeing the Cars characters out on the ice, moving and talking – complete with moving faces.
And, of course, Emma had a huge smile that crept over her face when the characters of Frozen appeared on stage.
We sat together munching on popcorn and ice cream while we relaxed and enjoyed the evening. The kids fell fast asleep on our drive home; dreaming of their favorite whimsical characters.
As the kids get bigger I've learned not to let these moments and opportunities to make memories pass me by. In this life there are only a few sweet years to cherish them while they are little, so I'm going to continue to do so as long as I possibly can.
~Melissa
(Visited 354 times, 1 visits today)