This shop for road trip snacks has been compensated by Collective Bias, Inc. and its advertiser. All opinions are mine alone. #RoadTripHacks #CollectiveBias #Albertsons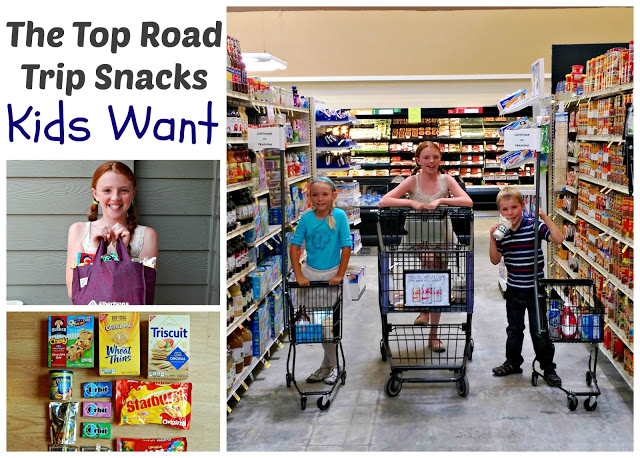 I feel like we've been traveling a lot lately and for our family I guess we have. We began the month with a 5 day road trip to see family in southern Oregon. Afterwards I jetted off to New York for another 5 days. This week we are planning to drive down to the beach and spend three nights camping in a yurt.
I'm excited to spend a couple of uninterrupted days with the family and *hopefully* have the opportunity to unwind a little.
I love to pack fun things to keep the kids occupied and busy – not only for our time spent camping but on the two hour road trip as well!
I don't know about you, but if my kids even hear the words 'road trip' their tummies suddenly become starving! It's like they hear 'car ride' and think that stocking up on snacks should be in order! 😉
So keeping that in mind, we stopped by Albertsons yesterday to stock up on 'the essentials'. I don't often give the kids a chance to go shopping for all of the snacks that they really want, so it was pretty fun trying to keep them under control!

Some of their favorite road trip snacks include:
Capri Sun drinks
Starbursts
Skittles
Wheat Thins
Triscuits
Planters Nuts
Quaker Chewy Chocolate Chip Bars
And Orbit Gum
Normally, instead of shopping ahead of time we actually will grab our snacks right before heading out and when we do, this is how we shop for and pack road trip snacks fast: 
Make a list, and let everyone pick out a few of their favorite snacks.

Head to Albertsons and if possible split the list in half, and have half of the family  shop for some of the snacks, and the other half shop for the rest.

Purchase a couple of reusable shopping bag at the store (if you don't already have some!)

Once you return to the car, separate the snacks equally so you have one bag in the front, and one in the back. Place drinks into an ice chest if possible.

Hit the road!
By planning an idea of your snacks and dividing the family up, it saves lots of time so you can get on the road fast and enjoy those travel snacks!
Now that we are all stocked up thanks to Albertsons, these kids are ready and excited for our mini adventure this next weekend – and I've just got to keep them under control for the next couple days until then! 😉
There's a fun contest going on where you can win big by sharing your best road trip hack! More information can be found HERE.  What snacks do your kids love to munch on during road trips?
~Melissa
(Visited 957 times, 1 visits today)