This shop has been compensated by Collective Bias, Inc. and its advertiser. All opinions are mine alone. 
#BackToClean #CollectiveBias
This year will be Anika's second year of middle school – and that makes me both happy and sad. I'm sad because I'm having a hard time with the fact that my baby is now a 7th grader, though I'm happy for her because things will hopefully be a little easier this year with a few less changes.
Moving from elementary school to middle school is a big wake up call for a lot of kids – they have more teachers, new classes, are the 'young' ones at the school, and they have lockers. In other words: they have a lot more responsibility. And that's a scary thought not only for the middle schooler, but also for the parents who have to allow their child to start having more independence.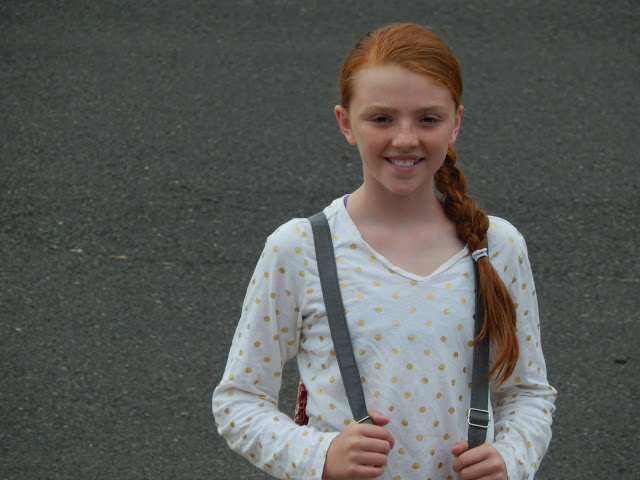 I asked Anika to write down a few things she thought were necessary to keep in her locker, now that she has had a year of locker experience under her belt – and this is what she came up with:
An extra jacket: "Just in case! Sometimes it's easy to forget to bring a jacket, and sometimes the weather can change on you pretty quick!"
Extra pencils (that are already sharpened): "Sometimes your pencils can break in class and it's nice to have extra ones all ready to go for your next period."
Tissues: "Because there will be one day; and you will have a runny nose, and it will be faster if you have some in your locker all ready to use!"
Extra folders, paper, binders, etc.: "Everyone will need extra supplies at some point – better to have them now than be sorry!"
Plastic zip up bags: "It's great to have a couple of these in your locker in case your crayon box gets ruined, or you need to keep paper clips or pencils together in one spot."
Clorox Disinfecting Wipes: " You should definitely keep these in you locker because when you are going from class to class you don't have a lot of time, so if you get something sticky or just need to wipe something clean, you don't have to waste any time – so you won't have to worry about being late for class!"
I just loved learning the way a 7th grader thinks! I obviously love the
Clorox Disinfecting Wipes
because they can quickly remove germs and bacteria that are lurking around (like inside of those school lockers!) They can also be used on multiple surfaces – like appliances, shopping carts, tables, sinks, etc. and the regular Clorox Disinfecting Wipes canisters are made from a recyclable number 2 class of HDPE (High Density Polyethylene) – and I'm all for recycling.
From July 19th – August 1st (while you are doing your back to school shopping) at Target you can also save 5% off of Clorox Disinfecting Wipes when
you use your Cartwheel App
!
The Clorox Disinfecting wipes can be found in the cleaning aisle as well as on special displays in the store.
Middle school: year #2 isn't that far away – and I'm not too worried….because my little Miss Anika managed to pull off a 4.0 last semester (insert: mom bragging moment here). I'm excited to see how this year goes for her!
Do you have a middle schooler? What was the hardest transition for them to make?
~Melissa
(Visited 1,005 times, 1 visits today)