Hello to all of the last-minute crafters out there! Don't tell me I'm the only one, right? I know it would be so much simpler to go and buy a few boxes of Valentine cards for the kids to take to their class parties, but I guess I just have to do things the hard way around here. The past couple of days (okay and mostly this evening) Anika and I were busily creating 66 of these little hearts for three different classrooms.
I had actually purchased this red glittery wrapping paper from Costco a couple of years ago during the holidays and have never used it all up…and then while I was putting Christmas stuff away it dawned on me; Valentine Hearts. Of Course!
The Kraft paper was also a score from the Target clearance section. I think it was like 3 rolls for $3.00 or some sort of offer like that I couldn't refuse…and I seem to have this thing for polka dots.
So here's what you need:
Photo Paper. I used HP Photo 5X7 photo cards
Glue Dots, or a Glue Stick
Kraft Paper
Red (preferably glittery!) Wrapping paper or scrapbook paper
scissors and /or a fancy-dancy paper cutter
Black Washi Tape (optional)
White Chalk Marker (optional)
First I created a heart template and folded it in half. I then traced the half hearts onto the back of the glitter paper. I created a whole row and then cut them out. The great thing about this wrapping paper is that its got the grid on the back and it makes it so much easier to fold and align things.
I then took my photo cards and folded them in half, then cut each card into two pieces. You could use card stock instead if you want, I just had the photo cards on hand already, and they were a great size for the least amount of cutting possible. 🙂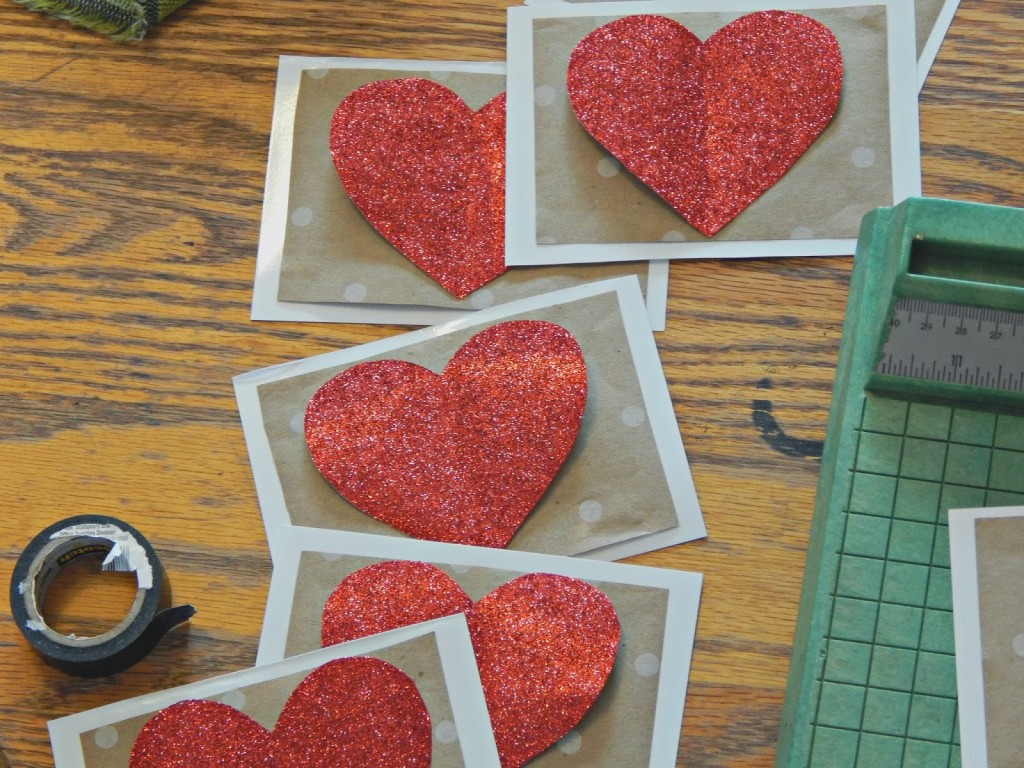 I then measured and cut the craft paper to fit just inside the photo paper, then using glue dots I attached everything together. We did end up running out of the glue dots so we switched to a glue stick and that worked just fine.
When I glued the hearts, I just glued along the folded line, leaving the edges free to create more of a three-dimensional look. This also came in really handy because we bought a big bag of Sweetarts and you can staple the candy to the back of the card and put the staple underneath the side of the heart… so you don't even see the staple. Anika thought this was "such a great idea Mom!" Sometimes my brain still works. 🙂
So where does the Washi Tape and chalk marker come in? Unfortunately, I didn't get pictures of them finished with candy and labeled, but what we did after we stapled the candy off to one side of the back was cut two Washi tape strips and stick them on to the back of the card and then Anika used the chalk marker to write To and From names. It actually turned out really cute!
And that's our crazy last minute D.I.Y. Valentine cards!
~Melissa
(Visited 915 times, 1 visits today)