I am a member of the Everywhere Society and Everywhere has provided me with compensation for this post about Macy's Culinary Council. However, all thoughts and opinions expressed herein are my own.
Last weekend I was invited to attend a Macy's Culinary Council event in their Washington Square store. The Macy's Culinary Council has some of the country's top chefs who travel around and are like cooking ambassadors for those of us wishing to learn more about the art of cooking. Some chefs included are Emeril Lagasse, Wolfgang Puck, as well as two well-known chefs to the northwest:
Tom Douglas
and
Nancy Silverton.
They were both there demoing some holiday bites and sharing some tips for us!
I had never attended one of these events before and was in for quite a surprise! We were greeted with glasses of Pinot Gris from
Columbia Crest
and seated for the demos.
Nancy Silverton started with an appetizer that was so simple to make, but a delicious treat! It was bread sticks with truffle butter and prosciutto. Often times people over complicated dishes when all they need is a few good quality ingredients, and this was definitely the case. Nancy mixed truffle salt and butter and spread it around the bread stick and they wrapped it with the prosciutto. I've bought truffle salt once and didn't really know what to do with it, and this idea is just so simple!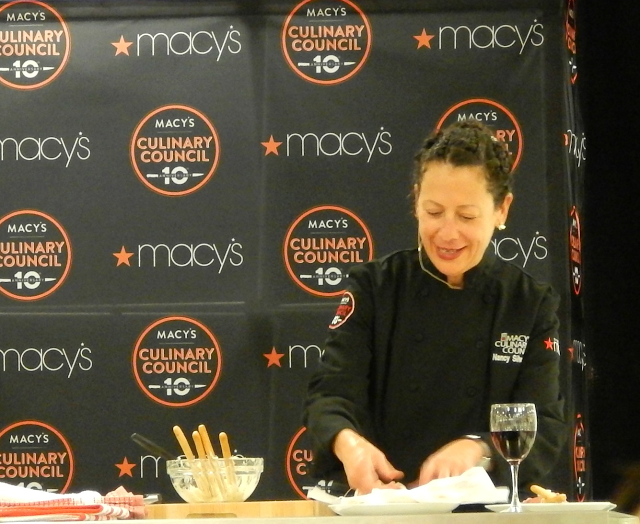 Then Nancy created something that I wasn't sure I would like… Creamy Burrata with Caviar.
I had never had caviar before.
If you don't know what burrata is (which I didn't) its a mozzarella cheese mixed with cream and it has a very soft consistency and mild flavor. The burrata is topped with shaved boiled egg, chives, red onion, parsley and then caviar. It was actually pleasantly surprised as it delicious and the ingredients blended well together.
After that she continued with a brussels sprout salad which was so good. It was made up with shaved (raw) brussels sprouts, lemon, mint, pecorino romano, almonds, and salt. I hadn't had raw brussels sprouts before and I must say, I like them so much better raw than cooked! The salad was so light and refreshing and the shaved brussels sprouts gave it this perfect crisp to it. Even my not – so – food – adventurous friend that came with me fell in love with this salad!
After Nancy finished her demos chef Tom Douglas took over. He told us how he makes his
Mom's Crab Dip with Russet Potato Chips
and talked to us about the importance of teaching our kids to cook and keeping family traditions alive.
I couldn't agree more.
 Tom then shared his recipe for Fennel Rubbed Salmon and I think I fell in love.
One of the best tips to remember when cooking with fish is freshness, freshness, freshness. I personally don't care for fish too much, but salmon or tuna cooked right is so delicious, and its because the freshness of them. It doesn't have that 'fishy' flavor that I don't care for.
Oh my, they were so good.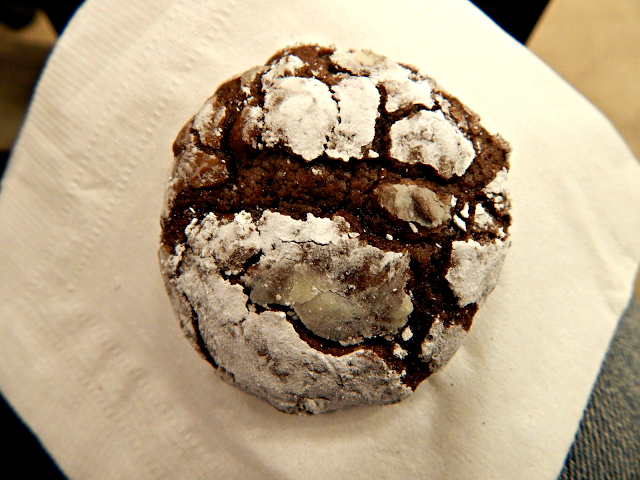 This jam-packed hour event was such a wonderful break from the hustle and bustle of the holiday shopping, and these demos are free! All you have to do is register in advance. To learn more about when and where the Macy's Culinary Council will be, you can check out their website HERE. You can also follow along with their Twitter account @culinarycouncil
Happy Holiday Cooking my friends!
~Melissa
(Visited 282 times, 1 visits today)