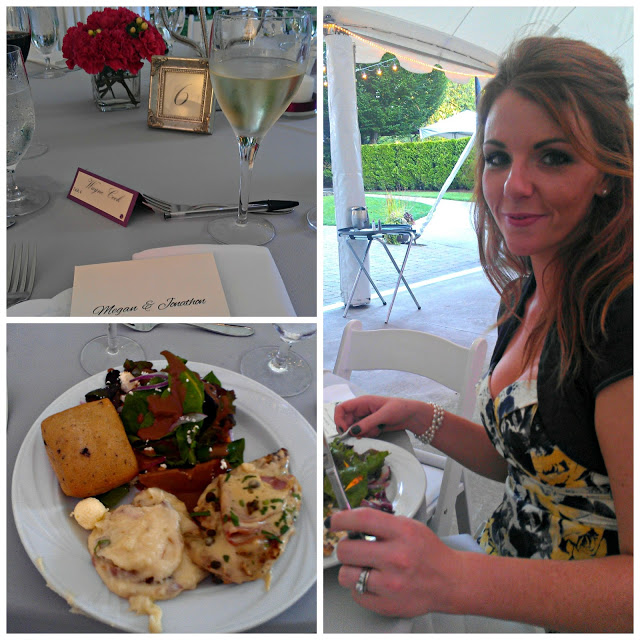 This past weekend Wayne and I attended a wedding. It was Wayne's best friends step-son, which I have only met a handful of times, but my husband knew him from the age of 8 on. I was so excited to have an excuse to dress up and have "grown up" time, as this was an adults only ceremony and reception. It was held outdoors in the Abernethy Center in Oregon City, and the day had been a hot one, but the ceremony didn't start until 6:30 pm so the weather cooled down perfectly.
Guests were greeted with a glass of champagne, and we all sat in place for the short and sweet ceremony. We were then brought over to the big tent where we were greeted with glasses of wine as we found our tables. Complimentary wines and beers were available all evening from the bar, and a range of cocktails were available for purchase.
 Photographers snapped away as everyone mingled waiting for the wedding party to return and dinner to begin. Sinatra music played in the background making the atmosphere magical.
The food was delicious. A pear salad, smoked Gouda mashed potatoes, open faced chicken cordon bleu, and olive ciabatta bread filled us up while we watched an adorable film a friend made out of interviews from the bride and groom.
After our meal more champagne was passed around and toasts were made and cake was cut. Multiple flavors of cakes were passed around and the dancing began for the last two hours of the party.
The wedding went so smoothly without an apparent hitch, and there was plenty of ample staff to run the behind the scenes work. I'd be lying if I said I wasn't just a little jealous of this memorable evening, but I'm so glad we were invited to attend! It was a good party. 🙂
~Melissa
(Visited 83 times, 1 visits today)