The birthday party was a hit. The weather turned out beautiful. A little on the hot side, but a great evening for a BBQ. I followed along with Anika's polkadot theme and my dear friend Carolyn bought her a cake to match. She ended up having 7 friends over, 5 of which stayed the night, and of course all of the family. There was plenty for them to do while the grown-ups BBQ kabobs…. a 'beauty' station where they painted their faces and gave each other manicures, then proceeded to the photo back drop to pose for mommy paparazzi. Then there was bean bag toss, which I created from an old sheet of plywood, a skill saw and some paint. We also played balloon tennis, and squirt guns.
We then all feasted on an array of food, then sang happy birthday to the birthday girl and ate cake while she opened presents. The adults began to leave, then the girls party began. The tent was set up outdoors and sleeping bags brought out, along with Cheetos and juice boxes for midnight snacks. 😉 We had an extra treat because coincidentally there was a meteor shower all night, and the girls loved looking for 'shooting stars'.
The next morning (after not much sleep) The girls feasted on bacon and eggs before going home.
It was a fun, exhausting weekend, and summer isn't winding down here yet! Camping at the beach the weekend of the 24th, and then at the end of the month we are hosting our last big BBQ of the year…and it just so happens to be on a Blue Moon. If you don't know what that is, its when a full moon occurs twice within one month. My friend will also be bringing her game of Bunko to teach us all. So our BBQ theme is Blue Moon BBQ and Bunko ;). Should be fun, and you'll know I'll have something creative to post for that!
my beautiful 9 year old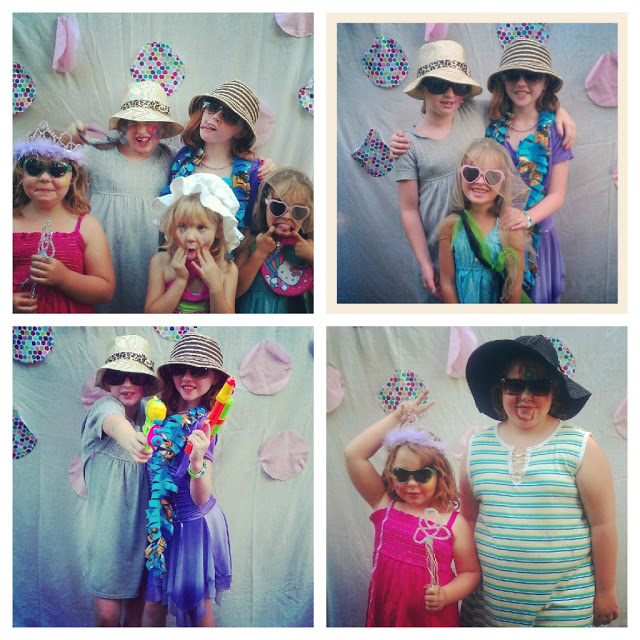 Photo Shoot!
daddy with his princess Emma
My fruit Kabobs – complete with cantaloupe polkadots on top 🙂
my handsome little man enjoying all of the girls, and cake!! 😉
(Visited 144 times, 1 visits today)