All I have to say is WOW! First of all, my Summer Strawberry Lemon Drop is turning into quite the popular feature! Christine from
First Home Love Life
 has been oh-so fabulous and featured it on her What's Cooking Wednesday! Thanks!!!
Crater Lake was uh-mazing. So beautiful, the water so so blue. Its the deepest lake in the United States and yup, its right here in Oregon. We lucked out and the kids got to play in snow, on a gorgeous 60 degree sunny day…and in July! They were so excited to tell their friends about that! Just look at these pictures….so pretty, and these were just from my little no-frills camera, and no colors altered or photoshop at all! Seriously, its this bright. Definitely worth the drive to see. We packed a lunch and spent the afternoon dinking around up there. There is a road that you can drive all the way around the lake, but the east side was still blocked off due to snow, so we went about halfway around the lake and then came back.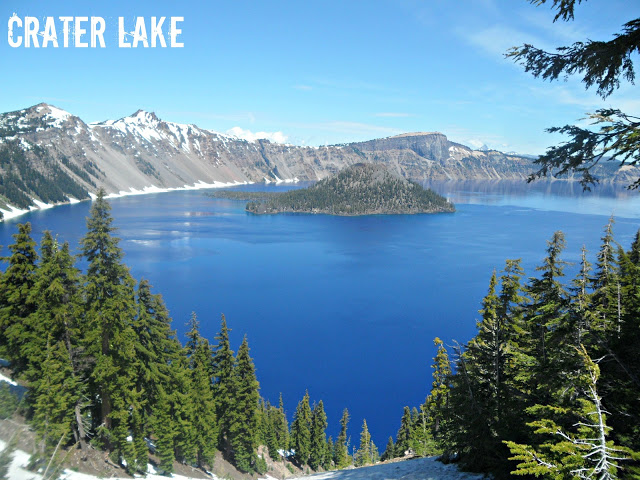 Crater Lake and Wizard Island
My favorite. Look at how in awe they were!
Today we hung out around here because the next two days are filled with fun! Today of course is the 4th of July, and we will be heading into Klamath Falls for their parade and fireworks show this evening. Then Thursday if all goes well we will pop over to the Lava Beds National Monument across the border in California.
My three amigos
Nothing better than a frappacino on our nature walk on a beautiful 80 degree day.
My daughter that never slows down. She wanted something to do…so I took her on a walk around the entire resort and golf course. It took nearly 1:45 minutes!
Swimming Boy. All the kids are completely obsessed with aquatic adventures.
HAPPY INDEPENDANCE DAY!
  Last but not least, I have linked up my blog on a blog hop to meet some new bloggin mommas like myself!
I'll be back soon with more projects and adventures to share. 😉
~Melissa
(Visited 295 times, 1 visits today)