What a week! It seems like every time you think you will have a simple project, SOMETHING has to complicate it! You can read the beginning of our new fence
here
, and HOPEFULLY it will be done within the next week and I can reveal the before and after pictures!
Summer is almost here and I have been thinking about my ever growing to-do list that mostly consists of home projects. Who knew owning a home was SO much work to maintain! Well, the kids are finally big enough that I can start to fix all of the projects that have been neglected the past five years….because we all know when you have babies you can't get much done! SO I'm going to give it my best shot to get as much on my home to-do list as possible!
1. Extend Fence on side – We have been working on this all week! Hope to be done soon!
2. Clean The Garage, and fix the garage door: This is a huge source of clutter and un-organization in our house…its downright embarrassing! And, our cables on the garage broke last year, resulting in a little E.R. trip and stitches for the hubby….I think I had better pay professionals for this job 😉
3. Build Kids Play structure: We currently have one of those metal swing sets from Walmart, which surprisingly has held up fairly well…but we have had it for 7 years and its getting a little to worse for the wear, and last year we were fortunate enough to get a large slide given to us, so the hopes is to build a play structure that the kids can enjoy in their larger backyard!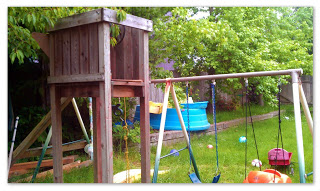 4. Stain the decks and old fences: They should have been done 2 summers ago! Better get on it so we don't have to replace them right now!
5. Clean Outside of Gutters: They are filthy!
6. Clean Carpets…. Its that time….again….
7. Repaint trim inside of house: I got the kitchen and one bathroom done a couple months ago, now for the rest of the house!
Well, that's only 7 things…but they are big projects! We will see if I can get all of these done! If I do, I think I'll treat myself to a massage! 🙂
Melissa
(Visited 188 times, 1 visits today)