So, I eventually will show more photos of my house, we live in a 'cozy' (by cozy I mean rather smallish) 3 bedroom two bath home that we purchased five years ago next month. I am the kind of girl that aspires to be organized but as much as I try, I'm never going to be the next Martha. And having three little 'helpers' doesn't help much either! But, when I get super frustrated with the lack of cleanliness; which happens often, I just remind myself that I am NOT wonder woman. Sometimes, the mess will just have to wait. But, I'm not showing you pictures today of my messy house, or my organizational skill, today I wanted to show you my dining area and photo collage. I had this big old blank slate of a pumpkin wall that I just couldn't figure out what to do with. Then I actually stole and modified an idea from my friend, and I'll tell ya, the kids love it… I take so many pictures that this works really good for me. All I did was hang a twine (you could use string, yarn, whatever you have) and then clipped clothespins on with some of our favorite pictures. I even got fancy and painted them white and added little rhinestones to some of them. 🙂
This is where the pictures start, over the sliding glass door, and I kept all of these black and white, and gradually added the colors in…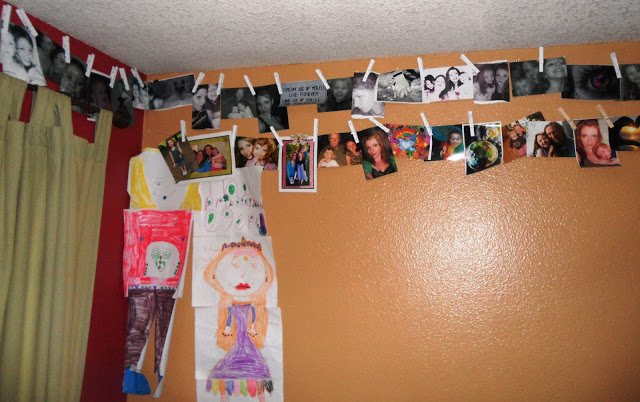 Here's the start of my big ol' wall, we eventually added another row of pictures, and a few of the kids artwork pieces to show off 🙂
 More photos…
and more artwork…
Here's the bigger picture, and yes, sadly that is my laptop over there in the corner, my office has gradually gotten smaller and smaller as my family has expanded and what once used to be in a bedroom is now shoved into a dresser in the corner. I actually painted the dresser white, and the little cabinet thing on the other side as well. Our house is very colorful, so I like to add white in to brighten it up a bit, plus, it makes all of our mis- matched pieces of furniture look a little bit better… still haven't done anything to that poor ol mis- matched table and chair set! 5 years later everything is a work in progress, as we haven't had extra funds to purchase many new furniture pieces. That's okay, I think I would be even more frustrated if the kids messed up new chairs. These poor chairs have been through a lot!
And last but not least, Mr. mess-maker #3 had to sneak in the picture, on his sisters bike, proudly showing off the mess he helped create in the living room!
Well, there is a peak at what I came up with to fix a blank wall. Like I mentioned, the kids really love it, I can't tell you how many times the pictures are talked about over dinner. And the best thing is I can changed them up whenever I want!
Hopefully I will have more to come on my house in future posts, if I can ever get them semi-camera ready 😉
Melissa
(Visited 121 times, 1 visits today)