This post has been sponsored by Kellogg's. All opinions are 100% my own.
 So often as a mom I find myself over-working, getting stretched too thin, and wearing myself physically and mentally. After all, I am only one person and a mom just can't do everything all of the time. One of my little goals for this year is to engage my children with participating in helping me more with simple tasks around the house. They are getting old enough that I think they need to have a tad bit more chores to teach them responsibility and to help them learn and grow as individuals.
I'm working on several ideas right now on how and what to implement, but one tip that I just had to show and share today came to me after I became a part of Team Kellogg's and watched this video from the Kellogg's Great Start Campaign.
You see, I try to always be prepared for the little things that come our way throughout the day by having some ready-made proportioned snacks on hand in case we need to grab a bite on our way out the door, or even just so I don't have to hear, "Mom, I'm hungry! What's there to eat?" after school. After watching this video I thought, hey, now that is something the kids can do for me every week to help out, and I can even make it fun and educational for them!


So I decided to have a snack packing contest for the three of them; but it's not just about speed – it's also about the ability to follow directions, count, write, and it keeps them occupied.
(1.) First I calculated how many snacks I wanted to prepare for the week. Everyone's will vary, so begin by observing what food your family consumes for a week in between meals and that should give you a good starting point.
(2.) Second I decided on portions that I wanted the kids to fill. I wrote them down so the kids could see the numbers. Anika is an excellent reader, and the other two could look at the numbers and count – it's sort of a team effort. I had them write their names on their snack bags and then let them have at it! The one deal was that they were responsible for cleaning up a mess if they made one.
(3.) Set on a time for the race. Two minutes worked pretty well for us, and I let them do it twice. It was long enough to engage them and make them want to work quick, but not so short as to frustrate them if they didn't get very far.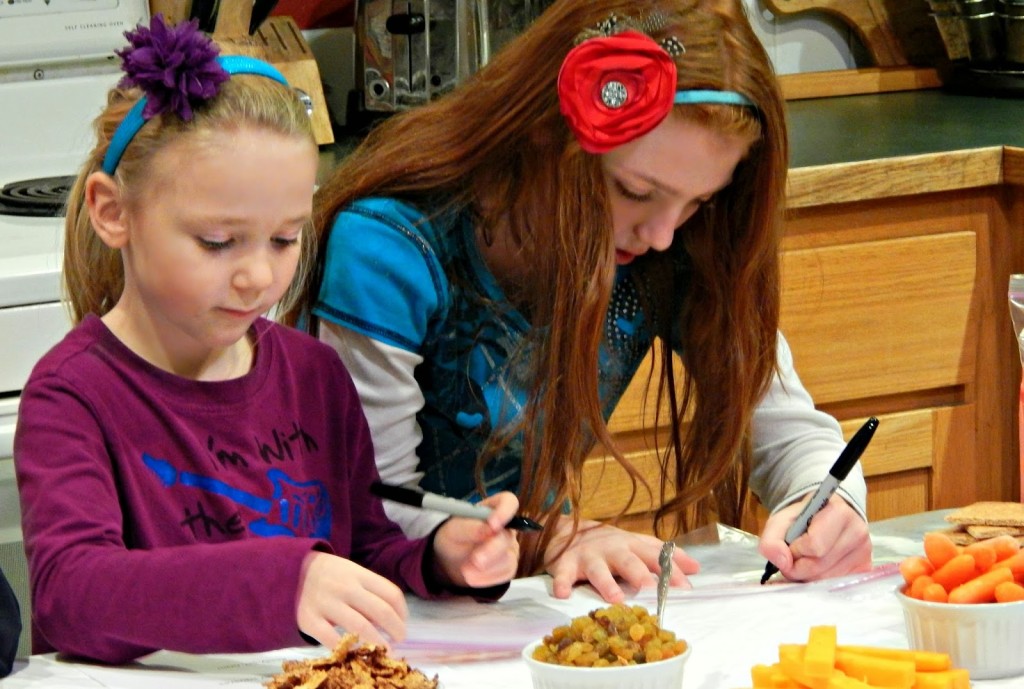 When we were done the winner got to pick from a list of ideas I created that doesn't cost anything.
If nothing else this new "game" makes what once was a routine chore that happened one night a week for me and turned it into a fun-filled family activity!
Here are some ideas for snacks and prizes so you can hold your own snack packing contest!
Snack Ideas:
Kellogg's Special K Cereal
Dried Fruit
Carrots
Celery sticks
Nuts
Whole Grain Crackers
Graham Crackers
Grapes
Cheese Slices
Prize Ideas:
Pick out a family game to play
Gets to stay up 15-30 minutes later one night (depending on the age)
Winner gets to choose their favorite breakfast cereal for the family breakfast
Gets to go shopping with mom (or dad!) to help pick out the snacks for the next week.
Stay tuned for more ideas from me, and in the mean time you can see more great tips from Team Kellogg's by checking out their website at: Kelloggs.com/GreatStartTips
~Melissa
Kellogg's® believes that From Great Starts Come Great Things®. So we're helping Moms start every day with a tip from the top athletes of Team Kellogg's™ and Team USA dietitians. The thirty days leading up to the Sochi 2014 Olympic Winter Games will each feature fun pieces of advice to help families fuel just like the athletes of Team Kellogg's. To see all 30 tips, visit Kelloggs.com/GreatStartsTips.
Compensation was provided by Kellogg's via Glam Media. The opinions expressed herein are those of the author and are not indicative of the opinions or positions of Kellogg's.
(Visited 338 times, 1 visits today)