This week has been such a pleasant surprise in Oregon! Last week was rainy with highs in the 50's, and now we have sunshine temperatures in the 80's! The kids definitely have got some serious summer fever happening right now (okay, maybe I do too!).
When the weather warms up I like cooking less, so we tend to eat a lot more salads. I'm always on the lookout for new recipes to try and different ingredients to use to change things up a bit so we don't get bored with the same thing over and over again. One of the things I really love about salads is that they are so versatile. They can be made sweet, or savory – low calorie, or not 😉 .
What are some of your favorite salads? Some of the ingredients I use most often are:
Grilled Chicken
Apples
Pecans
Dried Cranberries
Feta Cheese
Cheddar Cheese
Olives
Hard-boiled Eggs
Crumbled Bacon
Dried Tomatoes
I prefer romaine lettuce, butter leaf, and spinach for my salads, but we also use a lot of baby greens because that's what my husband likes. When I was younger I never really cared for salads that much until I realized what is was that bugged me: stems and centers. Now I make my salads and tear the stems off of the spinach and rip the leaf part off of the romaine and I love it! Guess it was just a texture thing!
I was browsing on the Foodie website for some inspiration and found 12 scrumptious looking salad recipes that I wanted to share with you!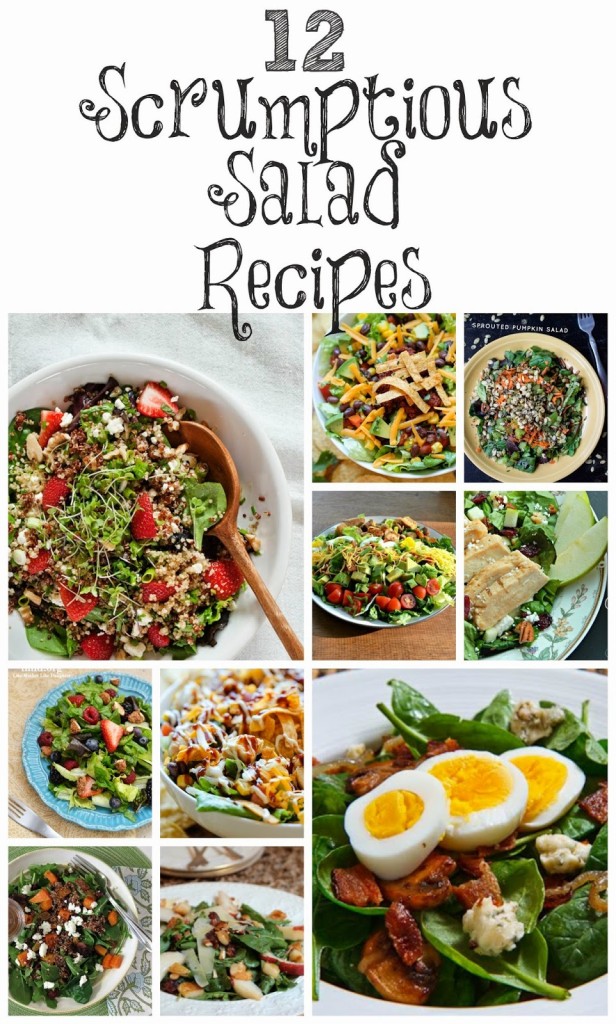 What are your all-time favorite salads?
~Melissa
Compensation was provided by Foodie via Glam Media. The opinions expressed herein are those of the author and are not indicative of the opinions or positions of Foodie"