This shop has been compensated by #CollectiveBias, Inc. and its advertiser. All opinions are mine alone.
 Hello everyone! This last weekend flew by and I can't believe that I didn't even get to write once on here! We attended my friends wedding, I worked a bit, and Wayne and I got to sneak out for 2 hours yesterday and did a little wine tasting. I am going through all of the pictures I took so I can share some with you, but I do have a few posted up on my
Instagram
right now :). Today I'm just hanging out at the house trying to clean up after a week of neglect. I'm already on dishwasher load #2 for the day and I'm glad I stocked up on
dishwasher detergent
the other week at Walmart! There's a coupon for $1.00 off Finish products, and they are already on rollback through October, so it was a great deal – plus the Finish Powerball is the best cleaner I've ever used.
School is starting tomorrow for the girls (Noah has one more week with me) and I feel like I'm still stuck in summer mode – not ready for the daily schedules, the drop off and pick ups… between school events and sport activities I feel like I don't have enough time to cook dinner, let alone keep the house clean, but I have came up with a few ideas that I'm really going to try and implement this fall and I thought it would be fun to share them with you today – plus I'd love if you commented and shared your tips too!
1. Maintain a cleaning schedule: I used to be a whole lot better at this than I have been the past couple of years, but I know that I do a better job of keeping up with the housework when I have what needs to be done printed out right in front of me. Figure out what days work best for you, like mopping on Tuesdays and Thursdays, dusting on Fridays, cleaning the windows on Wednesdays, and then create a daily to do list that has stuff you do every day, like dishes, sweeping, cleaning the counters, etc. Find a system that works okay for you them type it up and print it out. If you get really fancy you could laminate the sheets so you can reuse them and use a dry erase marker to cross them off each time.
2. Have a cleaning caddy standing by: I try and keep all of the cleaning products that I use frequently underneath the kitchen sink in a portable cleaning container so that I can just grab it and take it with me to whatever room I'm cleaning. I don't keep too much in it, but things like window cleaner, santizing wipes, gloves, bleach, etc. It saves me time from trying to grab everything and then bring them with me.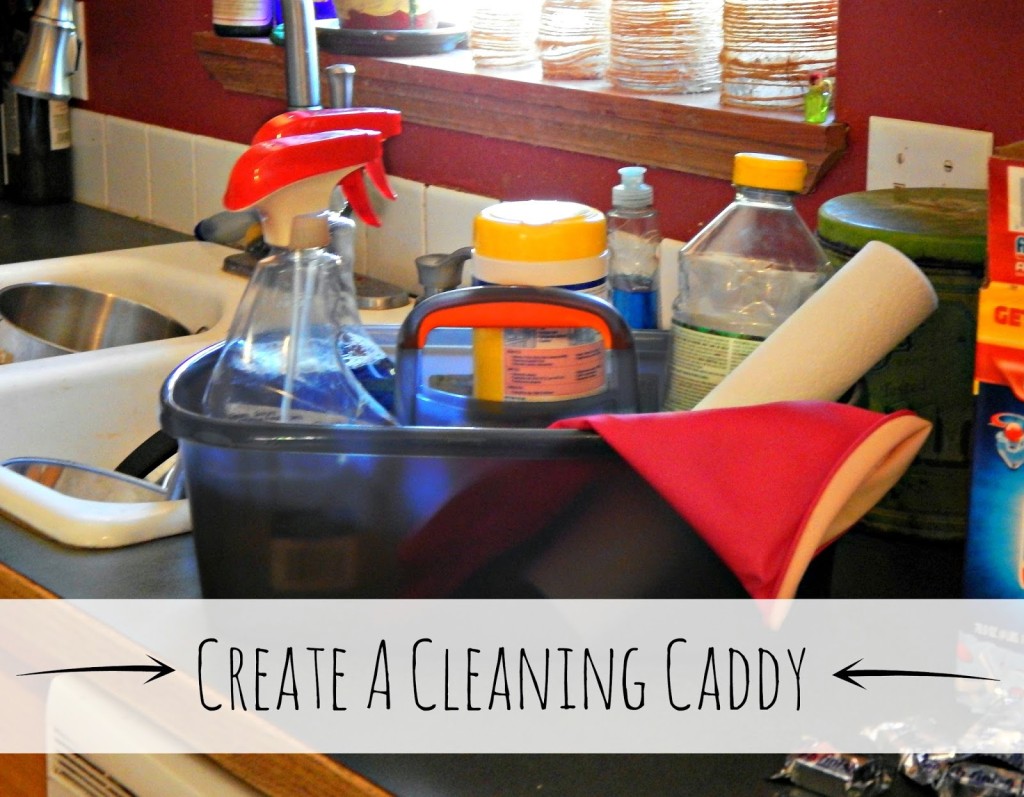 3. Use efficient products: I know one of the main ways I save some time on house cleaning is by using products that do the job right the first time. There are certain cleaners that I will not buy any other brand for because I know that certain ones do a better job than others, thus saving me time from not having to clean it so often, or again. The Finish products like I mentioned earlier are seriously like my favorite dishwasher cleaners, because they clean the dishes the first time, and I never find myself having to 're-run' the dishwasher again.
4. Have a 5 Minute pick up party at night: I have to tell you, like the #1 thing I waste my time on everyday is picking up and moving the kids toys and junk out of my living room so I can keep it clean. I know a lot of you do this already, but it's one of my goals to have these kids pick it up every night before bed, so I'm going to get a basket and turn up the music for 5 minutes and see if they can get it all put away during that time. Maybe the dancing and tunes will help make it a little more fun for everyone.
5. The kids can help
: This may not fall into the 'getting the house clean faster' idea, but it hopefully will someday. A couple of years ago I made a folder with a list of chores that Anika could do to earn a little extra cash. I wrote down step-by-step instructions so she knew exactly what had to happen to earn the money. She doesn't do them consistently, but she knows where the folder is whenever she wants to earn a few extra dollars. I actually
wrote about it a couple of years ago on here
, and looking back now at my earlier posts just reminds me of how far I've come on this little blog!
I've come to peace knowing my house will never be immaculate, it will always look lived in, and even though it's not perfectly beautiful, it's clean and we are healthy. Who's ready for fall? 😉
Don't forget to print out your $1.00 off Finish Products to use next time you're shopping in Walmart! Thanks #CollectiveBias and #SparklySavings for letting me share my ideas with you!
~Melissa