I am now in countdown mode for the last day of school and summer to officially begin! Noah's preschool graduation (his participation) was so cute last night (I'll share pictures soon!) and then the girls will officially be on break June 11th!
The past week I've been making a list of all of the little DIY projects that I want to get finished up this summer – and let me tell you, the list of getting pretty long. I may just have to share it with you one of these days. A lot of the projects are outdoor stuff, but I have lots of inside updating I'd like to do as well.
I've noticed that many of the indoor updates that I want to finish are pretty time consuming (like flooring, room painting, etc.) except one: updating the kitchen cabinet knobs. We have a small house, but are lucky to have an open kitchen with many cabinets and drawers – 32 to be exact. We also live in a 1990's home that has yet to be updated, and I was painfully reminded that every time I looked at my brassy gold kitchen knobs. I have nothing against the color gold, in fact I like it, but this yellow-y shiny golden hue is just hideous in my opinion.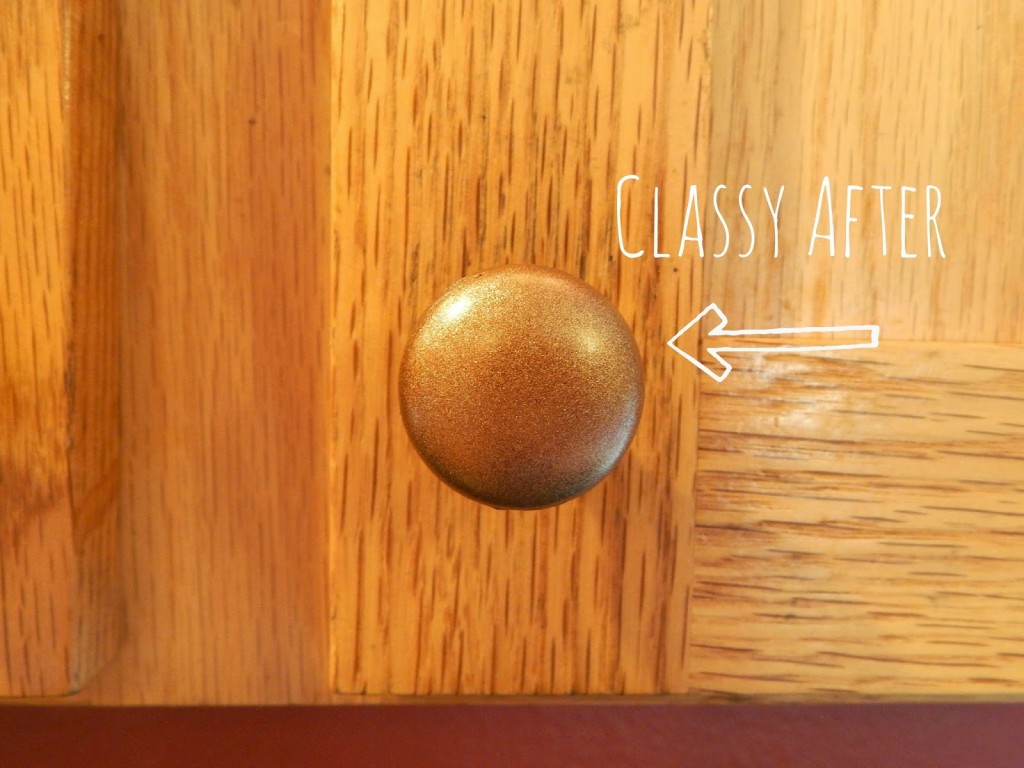 I hadn't bought any new ones because I'm still sitting out on a limb trying to figure out what I want to do with the kitchen. I pretty much would like to change everything someday – the counter tops, re-stain the cabinets, paint, etc. I like the red kitchen idea, but I also know that it makes the kitchen pretty dark and gloomy in the winter, so I've been mulling over painting it a light color, and also don't care for the oak stain on the cabinets either, so I think that would have to change after I painted. Anyways, I didn't want to shell out $3-$10 per kitchen knob until I knew what I was going to do, but in the meantime these knobs had to change. I decided to paint them a different shade that blended in better for now, so I bought a can of
Rust-Oleum ® Universal® Spray Paint
and went to work.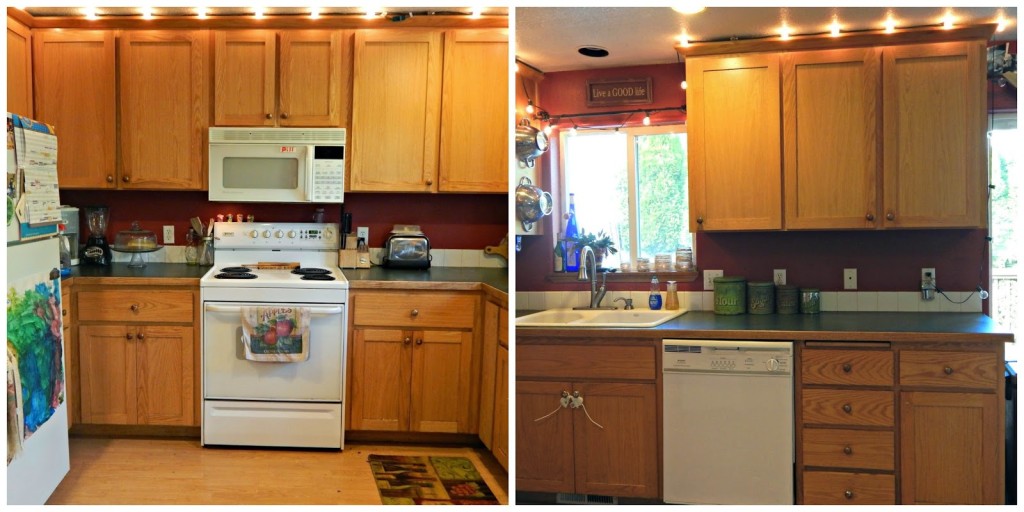 It was so easy to do – the hardest part was just waiting for them to dry!
?
How to Paint Kitchen Knobs
1.    Remove all of the knobs from the cabinets and clean + dry them.
2.    Next, using course sandpaper, rough the surface of the knobs up (this will help the new paint stay longer)
3.    Go outdoors or in a ventilated area and place all of the knobs in an upright position on scrap cardboard and paint them using the Rust-Oleum ® Universal® Spray Paint  (be sure to follow the directions located on the side of the can.)
4.    Let them dry to touch (approx. 1hr) then turn the knobs over and paint the opposite side.
5.    Let them dry overnight and then place them back on the cupboards!
Rust-Oleum ® Universal® Spray Paints offer a variety of on-trend colors and unique finishes, and boast the first-of-its-kind 360 degree any-angle delivery system that allows DIYers to tackle those hard to reach areas, even upside down.
~Melissa
"Disclosure: Compensation was provided by Rust-Oleum® via Glam Media.  The opinions expressed herein are those of the author and are not indicative of the opinions or positions of Rust-Oleum®."