Happy Wednesday! My kids actually lucked out today, because they are having three friends stay the night. And yes, I do have a couple of projects up my sleeve for them to create. 😉 You can check out my Girls Sleepover Craft Ideas from previous sleepover projects. I will also be busy the next couple days, getting ready for our road trip…(you can read a little more about that here.)
So, if you know me, I'm all about making homemade gifts and creating. I am also one of those people that saves gift bags to re-use. I have no shame in re-using, and I don't think I've had to buy a gift bag in YEARS. Anyways, so for this Father's Day this year we decided to 'create' a gift box, filled with homemade cookies, and all sorts of 'daddy' snacks, and then we decorated it. I allowed my kids to use their imagination as much as possible. I had an old cake box we saved that was in good condition. I let the kids pick out the different scrapbooking papers that we glued to the box. Then I painted the kid's hands and let them make handprints on top. The sides then became covered with drawings and colors (and some Dora stickers!) Believe me, the kids had a lot more fun decorating this than just buying some wrapping paper.
We ended up taping the edges so the paper wouldn't 'accidentally' get ripped up by my two year old 😉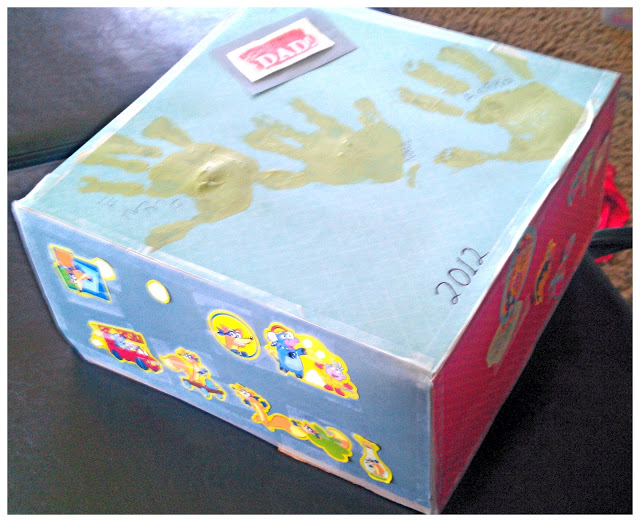 Remember, gifts, or even just what you cover the gifts in, is so much more meaningful if you take the time and thought to make it extra special!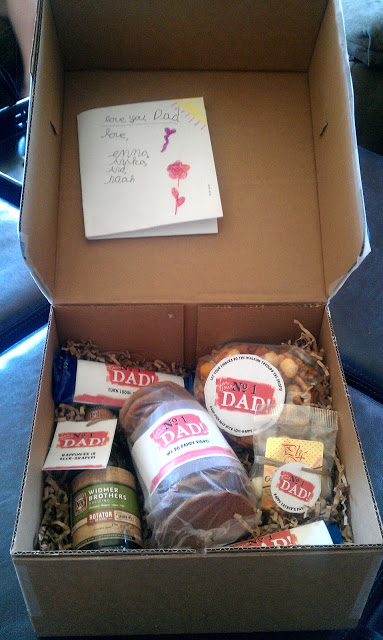 By the way, in case you were wondering, this is what the inside looked like.
And, instead of cards, I interviewed each of the kids and asked them questions about their dad, then let them pick out their own background paper.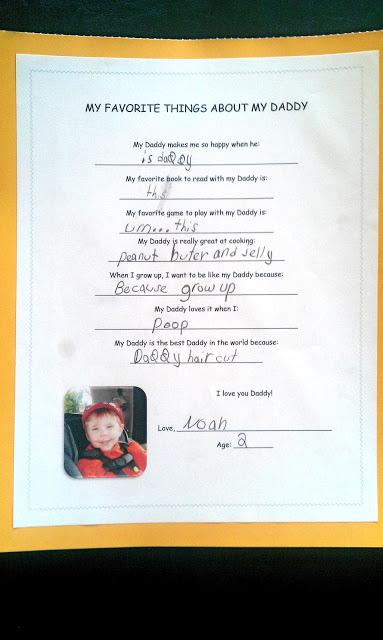 Yes, Noah really did answer 'poop'! I had my eldest write all of the answers down.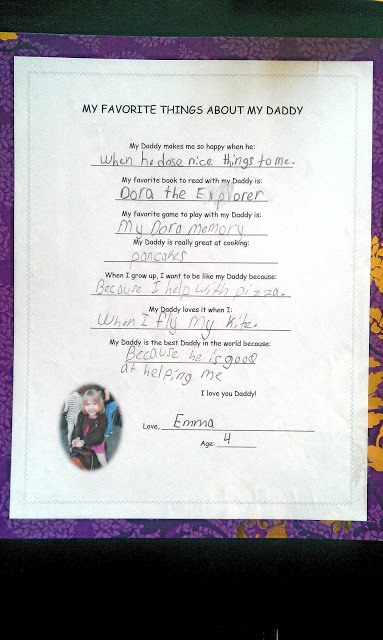 How much more fun is that than an old card? Get creative, you can modify the questions and it doesn't have to just be for a Father's Day!
Melissa
(Visited 135 times, 1 visits today)